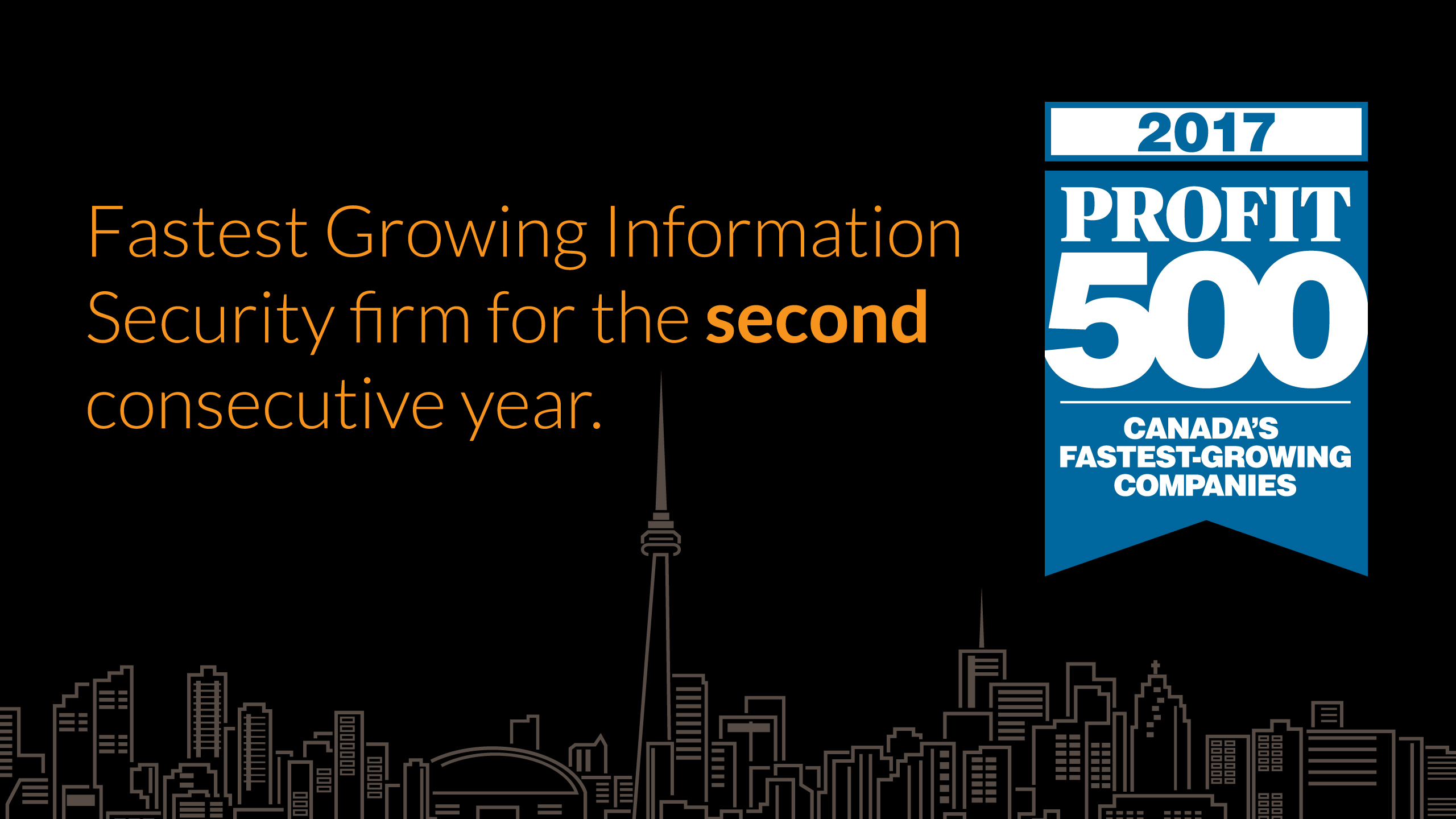 Canadian Business unveils 29th annual list of Canada's Fastest-Growing Companies
Secure Sense Ranks as Fastest-Growing Information Technology Firm on 2017 PROFIT 500 For Second Consecutive Year.
Burlington, September 18, 2017-  Canadian Business and PROFIT ranked Secure Sense as the fastest-growing information technology firm for the second year and No. 20 on the 29th annual PROFIT 500, the definitive ranking of Canada's Fastest-Growing Companies. Published in the October issue of Maclean's magazine and at CanadianBusiness.com, the PROFIT 500 ranks Canadian businesses by their five-year revenue growth.
Secure Sense placed on the 2017 PROFIT 500 list with five-year revenue growth of 3,044%. 
"It is never easy to earn a spot on the PROFIT 500, but this year's applicant pool was the most competitive yet," says Deborah Aarts, PROFIT 500 program managers. "This year's winners demonstrate the resilience,
innovation and sheer management smarts it takes to build a thriving business today. Canada—and the world—needs more entrepreneurial success stories like these."
"To be recognized as the Fastest-Growing IT firm for the second year is a huge accomplishment for our team," says Kerri Tomaino, Director of Sales. "It's an honour to have placed on this coveted publication, and we congratulate each of the honorees on their success as well. We have a remarkable team, all working towards a customer-driven service and are excited for what's in store for the future of IT."
About the PROFIT 500
For 29 years, the PROFIT 500 has been Canada's most respectable and influential ranking of entrepreneurial achievement. Developed by PROFIT and now published in Maclean's magazine and at CanadianBusiness.com, the PROFIT 500 ranks Canadian companies on five-year revenue growth. For more information on the ranking visit PROFIT500.com or CanadianBusiness.com.
About Canadian Business 
Founded in 1928, Canadian Business is the longest-serving and most-trusted business publication in the country. It is the country's premier media brand for executives and senior 5 business leaders. It fuels the success of Canada's business elite with a focus on the things that matter most: leadership, innovation, business strategy and management tactics. Learn more at CanadianBusiness.com.
About Secure Sense:
Secure Sense is a solutions provider specializing in network and security services and product implementation. We offer managed services and a range of professional services, allowing us to deliver custom solutions. We've drawn on our skills and knowledge to establish a philosophy wherein clients are provided with the value and ROI from IT expenditures. Visit our website for more information: www.securesense.ca
---
For more information, please contact:
Mackenzie Parnham
866 999 7506
mparnham@securesense.ca