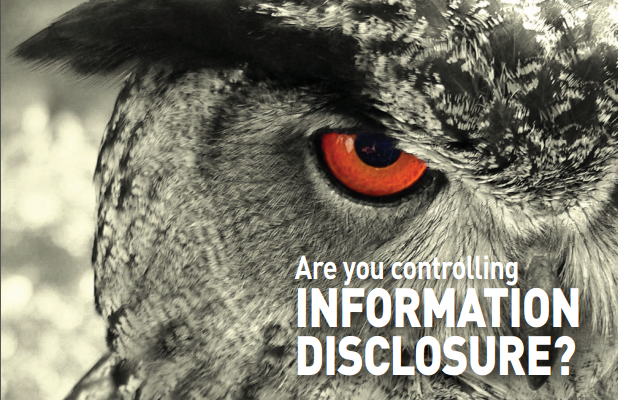 How Do I Protect My Digital Assets?
A Guest Blog Post by Watchful Software.
May 27, New York Times:
Jawbone Accuses Fitbit of Stealing Information by Hiring Workers Away

June 1, Credit Union Times:
Email Data Breach Costs $1.3 Million
September 23, Becker's Health IT &CIO Review:
Insider data breach: Former CVS employee compromises data on nearly 55k individuals

The headlines say it all!  CISO's and CSO's are constantly telling us this is what keeps them awake at night!
How do I protect my company's sensitive unstructured data against a data breach?
How do I prevent my company's sensitive information from walking out the door with current and former employees?
How do I prevent both the insider threat and the externally breach?
How do I prevent widespread damage to my company's business when a data breach occurs?
Watchful Software created RightsWATCH to address all of these issues.  Hacking the perimeter, data breaches, whether malicious or non-malicious, whether from an insider or from an external source, all are addressed by RightsWATCH keeping your unstructured data protected at all times.
RightsWATCH takes a data-centric approach to protecting your unstructured data (such as emails, documents, spreadsheets, engineering drawings, etc.) and in protecting against Data Leakage, enforcing compliance through an automated data classification process without interrupting the user's normal work flow.
RightsWATCH follows a 5 step approach to protecting your company's sensitive data as follows:
RightsWATCH identifies data to be secured at creation with content and context awareness using its Dynamic Classification Engine supported by rules-based policies. All of this information is encapsulated in metadata and aligned with the data itself.
Classification is the corporate policy's key element customized through assigned rights and based upon access privileges and usage.
RightsWATCH also provides the user with the capability to place watermarks, set up control headers and footers, and fully attach identifiable metadata.
RMS through templates generated by RightsWATCH manages all of the data access rights. RMS encrypts the data, completing the protection process and tying all access to the user with proper credentials. Based upon corporate policy rules, RightsWATCH can also warn and block against an accidental email transmission to an external user preventing the unwitting passage of data outside the corporate perimeter.
Once the data is secured, classified and identified, all activity associated with that data is logged and cataloged into a centralized database for tracking and reporting. The central management console provides the user with information necessary and sufficient to construct a regulatory compliance practice.  And this data can also be exported for more detailed forensics with Security Information and Event Management (SIEM) software.
RightsWATCH protects unstructured sensitive data from being accessed by those who are not authorized to have it.  RightsWATCH is the solution which both addresses the insider threat and the external data breach.  In the event of either a malicious or non-malicious breach, your sensitive unstructured data is secured from access by those who should not have access to it.  RightsWATCH is currently installed in leading world banking operations; is being used by leading semiconductor manufacturers; is installed in the Oil and Gas industry; has extensive exposure in Healthcare, Telecommunications, Transportation and Defense.  RIghtsWATCH is the CISO's and CSO's real answer allowing them a restful night's sleep!
About Watchful Software
Watchful Software was formed in 2012 to address the requirement to protect an organization's most critical asset after its people – it's information. The company is staffed by industry executives with decades of systems, software, networking, security, and compliance experience to address the growing need for protecting sensitive and proprietary information against accidental or malicious theft, leakage, or loss. Leveraging key technologies including advanced encryption algorithms, digital rights management, and e-Biometrics, Watchful Software has developed a suite of solutions that ensure only authorized personnel have access to enterprise systems or can handle sensitive information, thereby protecting against the massive economic and competitive damage often done by cyber terrorists and information thieves. Learn more at www.watchfulsoftware.com