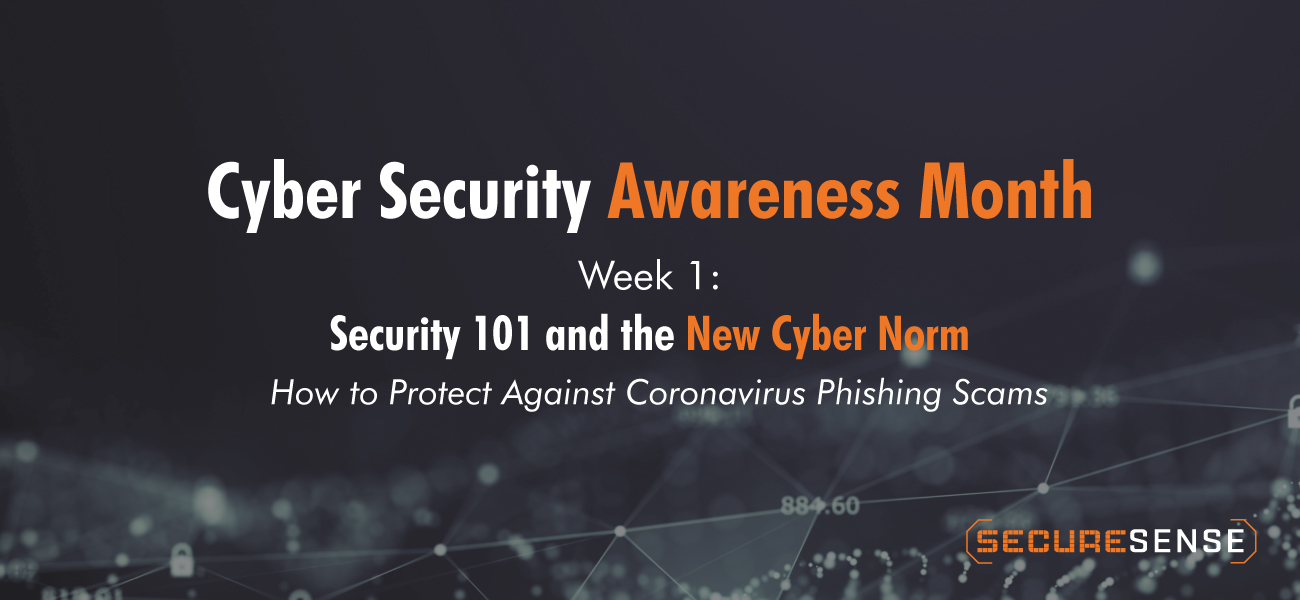 How to Protect Against Coronavirus Phishing Scams
Given the current state, holidays, and special cyber shopping sales, are no longer the only days to worry about email phishing scams.
As mentioned in our previous blog (you can catch up here), the pandemic has resulted in a major surge in coronavirus related cyber scams. Everything from government related scams, shmishing campaigns, and most commonly, email phishing attempts, are taking advantage of vulnerable people during a fearful time. Phishing scams aren't new to most, however, the pandemic has brought out even more relentless cybercriminals and new tactics to trick those into clicking links and potentially giving up their credentials.
Today we will focus on the coronavirus related phishing scams and how to differentiate a scam from a real email.
How to Protect Against COVID-19 Cyber Scams
As attacks become more challenging to identify, organizations become more susceptible to breach and ransomware infections are often instigated through phishing emails. It's crucial to take proactive measures to help protect yourself and your organization's security.
Coronavirus related phishing attempts are a current security attack trend with the ultimate goal of loading dangerous malware on an innocent individual's computer. Cybercriminals send emails claiming to be from legitimate organizations, such as the World Health Organization or the CDC, with information about the coronavirus The suspect email may ask you to download an attachment or click a link to review the latest statistics. You should know that if the link is clicked, or the attachment was downloaded, you have potentially loaded malicious software onto your device. This malware could allow cybercriminals to take full control of your computer, log your keystrokes, and even access your personal information and financial data.
A legitimate organization, such as the WHO, will likely never ask you to download an attachment you have not requested. They will never ask for your username/password or offer you money. If you receive an email including any of these items, you may be the target of a coronavirus phishing attack.
The best way to prevent the potentially damaging effects of phishing attacks is enforcing basic education – just like putting on your seat belt when driving a car. By now you're probably pretty familiar with what the typical phishing email looks like, and what to watch out for, however here's a quick reminder:
What to look for in a traditional phishing email:
Verify that the email address is really an internal address and from a trusted source
If your name is not in the to: or CC: line or many of your colleagues are listed (dozens or even hundreds), question the source
If there are simple typos or grammatical mistakes, or the subject line seems odd, it could potentially be a fake
Verify the links are for real domains and not questionable like .ru
Do's and Don'ts When You Receive a Possible Phishing Email
Don't ever give out sensitive information such as your username/password, financial information, or address
Don't feel pressured to click the link or download an attachment because of a "deadline" outlined in the email
Do your research – most organizations will issue a statement regarding phishing emails or scams coming from a source that appears to be them. Always check the website of the organization to verify
Always report the scam to the organization in question and to your organization's IT team
If you mistakenly gave out sensitive information to a scammer, make sure to change all your passwords immediately
5 Best Practices to Mitigate the Risks of Phishing Attacks
Basic technology can stop an attack even if the end user makes a mistake since many of the phishing attacks leverage known weaknesses. Here are five best practices to mitigate the risks of phishing attacks:
Make sure all security patches are up to date on a regular basis for all systems, especially for common attack vectors like Microsoft Office, Adobe Flash, and Java.

Ensure the end-user is running with proper privileges and not logged in as an administrator answering emails. This just makes it easier for malware to own the system and bypass defences.

Ensure defence software like AV is up to date including engine and signatures.
Disable automatic macro execution in Office and only run macros that are digitally signed (the sample file discussed above).

Deploy and maintain SPAM filters, next-generation firewalls, etc. to stop malicious emails before they end up in an end user's inbox and establish command and control of the hijacked system.
Interested in learning more about how to improve your email security practices? We're here to help. Contact a Secure Sense sales representative at sales@securesense.ca or 866-999-7506.
In honour of Cyber Security Awareness Month, we will be sharing insight on the latest cybersecurity news, tips from Secure Sense experts and general security knowledge geared towards keeping you out of the headlines and focused on what matters most, your business. Don't miss a beat by following along on our Twitter, Facebook and LinkedIn Pages.
---
Secure Sense is the security provider that cares. We are a team of experts with a passion for IT and protecting your organization is what motivates us daily. If you have questions or want to learn more about how we can improve your organization's security, our services or just want to chat security please give us a shout.