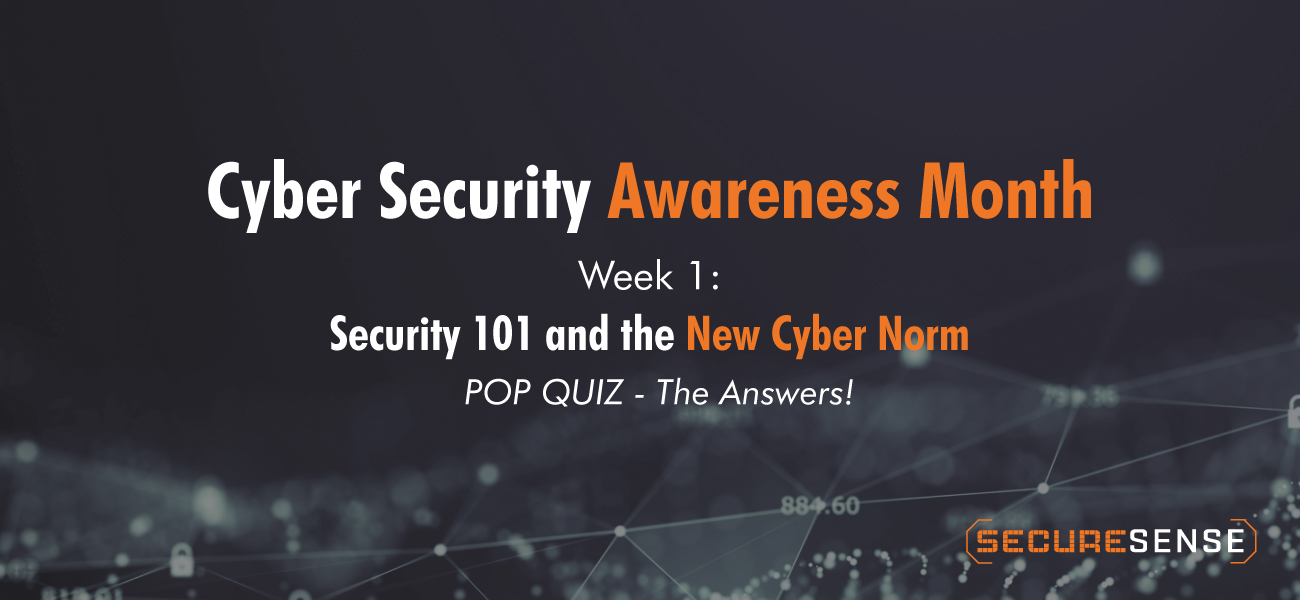 Pop Quiz Winner!
Happy Tuesday! Thank you to those who participated in our Pop Quiz last Friday. We have entered all participants (with correct answers!) in the draw.
Below are the answers to each question:
Cyber Security Awareness consists of which of the following?
Answer: d, all of the above


The spike in which 2020 IT trend was responsible for increased attack surface, decreased visibility, & overall increased risk for companies
Answer: b, remote work


If you are uncertain how your organization would fare in an assessment of your security posture maturity, you're probably:
Answer: d, already compromised


Who is most likely to be a target of cyber-attacks?
Answer: d, everyone


What basic technology can help you mitigate the risks of phishing scams?
Answer: d, all of the above
And the winner is? Munira Dhanani-Jeraj! Please keep an eye on your direct messages on LinkedIn as we will reach out to you regarding your prize.
Check back to the blog this week for week 2 of Cyber Security Awareness Month! Next up we are discussing Security Technology: Endpoint Protection.
Missed a few questions? Read up on last weeks blogs on Security 101 and The New Cyber Norm to brush up on your security knowledge!
In honour of Cyber Security Awareness Month, we will be sharing insight on the latest cyber security news, tips from Secure Sense experts and general security knowledge geared towards keeping you out of the headlines and focused on what matters most, your business. Don't miss a beat by following along on our Twitter, Facebook and LinkedIn Pages.
---
Secure Sense is the security provider that cares. We are a team of experts with a passion for IT and protecting your organization is what motivates us daily. If you have questions or want to learn more about how we can improve your organization's security, our services or just want to chat security please give us a shout.