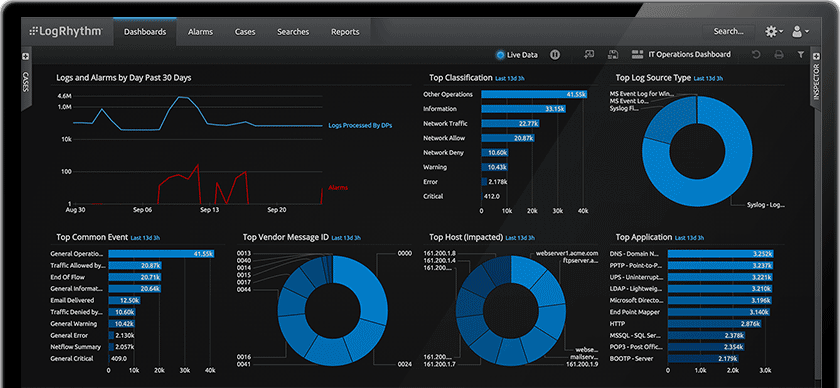 Secure Sense Named 2016 LogRhythm Partner of the Year Canada
Burlington, ON,  February 28, 2017 – Secure Sense, Canada's fastest growing IT Security company, is pleased to announce it has been named LogRhythm's 2016 Partner of the Year, Canada. The announcement was made at the LogRhythm Partner Summit, held in Boulder, Colorado.
"We're very excited about this partner award," says Peter William Humphries, CEO of Secure Sense. "Our partnership with LogRhythm is so vital to our business, our Managed Service practice and to the customers we serve. Being recognized as the Canadian Partner of the Year, enables us as a company to continue to fulfill our ultimate goal of becoming Canada's most trusted security firm."
LogRhythm combines log management and SIEM (security information event management) with advanced pattern recognition and correlation capabilities to detect insider threats, sophisticated malware, and targeted attacks. Our MSSP for SIEM provides organizations with a 24×7 fully monitored and managed SIEM solution to help meet their security and compliance requirements. It also provides a level of comfort knowing that analysts with the necessary security skills and research capabilities are reviewing your logs and identifying malicious or anomalous activity.
The service is built in a manner that is fully customizable to meet our customer's requirements. We understand that every environment will have different objectives, whether it scheduled specialized report. The Secure Sense model of providing SIEM capabilities allows us to leverage our expertise in order to shape the service to meet these requirements.
Follow Secure Sense: Twitter, LinkedIn, Facebook & Instagram
About Secure Sense
Secure Sense is an IT solution provider specializing in network and security services and product implementation. Not only are we a Value Added Reseller (VAR), we offer managed services and a range of professional services, allowing us to deliver optimal custom solutions for our customers. We've drawn on our skills and in-depth knowledge to drive and establish a philosophy wherein clients are always provided with the value and return on investment they should expect from IT security expenditures.
Secure Sense has been consistently recognized as an industry leader. The company has been mentioned on various industry publications like PROFIT 500 Fastest Growing Security Company, and most recently, CRN's Next-Gen 250 List and CRN's MSP500 list.
Secure Sense is headquartered in Burlington Ontario, with operations across Canada.
About LogRhythm
LogRhythm, a leader in security intelligence and analytics, empowers organizations around the globe to rapidly detect, respond to and neutralize damaging cyber threats. The company's patented award-winning platform uniquely unifies next-generation SIEM, log management, network and endpoint monitoring, user entity and behavior analytics (UEBA), security automation and orchestration and advanced security analytics. In addition to protecting customers from the risks associated with cyber threats, LogRhythm provides unparalleled compliance automation and assurance, and enhanced IT intelligence.
LogRhythm is consistently recognized as a market leader. The company has been positioned as a Leader in Gartner's SIEM Magic Quadrant report for five consecutive years, named a 'Champion' in Info-Tech Research Group's 2014-15 SIEM Vendor Landscape report, received SC Labs 'Recommended' 5-Star rating for SIEM and UTM for 2016 and earned Frost & Sullivan's 2015 Global Security Information and Event Management (SIEM) Enabling Technology Leadership Award.
LogRhythm is headquartered in Boulder, Colorado, with operations throughout North and South America, Europe and the Asia Pacific region.
---
FOR ADDITIONAL INFORMATION PLEASE CONTACT:
Mackenzie Parnham
Marketing Coordinator
Secure Sense
866 999 7506
mparnham@securesense.ca