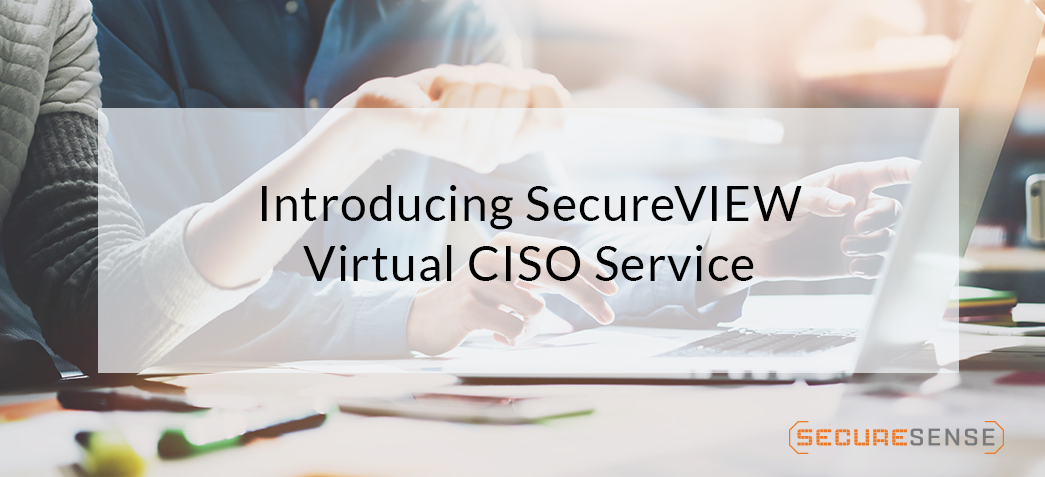 SecureVIEW Virtual CISO Service
Secure Sense is very excited to announce a new addition to our managed service delivery: SecureVIEW Virtual CISO service.
As many of us know, most security teams are built in a reactionary manner, not by design. Typically, security teams remain understaffed while security budgets remain discretionary rather than being truly viewed as a necessity woven into the fabric of business planning. Without leadership and vision, unintended gaps in controls, processes and preparedness continue to contribute to a rich history of well-known breaches where no CISO was on staff. Without the leadership of a competent CISO, companies can be left scrambling to respond, lacking a unifying voice to lead a preventative security practice, rather than a reactionary one.
However, good CISO's are hard to come by and return on investment is often compromised by short retention times. On average, full-time CISOs are expensive and often stay in their position for two years or less before moving on to other organizations. This can be a disruptive force by fostering a lack of continuity, duplication of efforts and a blurring of visions for the security team. Organizations need coherent leaderships and vision, a steadfast commitment to best practices and preparedness, and a viable ROI in doing so.
Why SecureVIEW?
Secure Sense's new Virtual CISO (vCISO) service provides several distinct advantages over the traditional model of a full-time CISO. Not only does our SecureVIEW service address security leadership and vision by providing organizations with a competent, industry certified CISO, our service is also backed by a fully stacked security team. Additionally, retention and salary challenges surrounding a full-time in-house CISO are avoided, and instead replaced with increased stability, continuity, and a cost-savings to your organization.
SecureVIEW provides:
Information security leadership and guidance
Steering committee leadership or participation
Security compliance management
Control implementation oversight
Security policy, process, and procedure development
Incident response planning
Security training and awareness
Board and executive leadership presentations
Security assessment, VA/Pentest and Risk Management
Internal auditing
And much, much more.
SecureVIEW Value
As a managed security service provider, we are able to provide more value to your service by utilizing our team of experts to offer a comprehensive and flexible service to fit your organization's needs.
SecureVIEW offers:
Improved Time-to-Value – onboarding a new CISO can require significant ramp-up time, but our service is designed with proven discovery processes and methodologies overseen by a qualified chief resource but undertaken by a full team of experts.
Strong Security Leadership – Our experts have the opportunity to engage many more environments, businesses and challenges than most individuals. And while any one person has strengths and weaknesses, our vCISO service ensures that our whole security team is there to work to their strengths.
Flexibility – Every company can benefit from security leadership and unified direction, but all companies are unique in terms of their needs and may benefit from a consumption based CISO service that's available as needed, and unbilled when it's not.
Accountability – Our vCISO service offers continuity in terms of retention and is free of staffing disruptions impacting your initiatives or the broader vision of the program. Our Customer Success Managers add an extra layer of transparency, availability, and accountability by advocating on your behalf to our internal project resources.
Unbiased Direction – Our service does not work toward any personal agendas and includes checks and balances against personal opinions that may be natural within a team. We work diligently to understand your current readiness and future requirements and provide measurements that identify gaps and do not overestimate preparedness.
Many > One – Our service designates a qualified senior resource to the vCISO role, chiefly responsible for ensuring that service deliverables are met, but this individual has the strength and support of our full team of experts when addressing challenges and weighing decisions. This translates into a breadth of experience that is rare to find from a full-time CISO.
The Latest and Greatest – As a cybersecurity provider, our team has the opportunity to encounter more technologies, environments, use cases and challenges than any one business. We are hard at work reviewing policies, architecting and implementing solutions and testing new things in our labs.
Interested in Chatting with a Security Professional?
There's no better time than the present to enlist help for your security needs. If you would like to know more about how our SecureVIEW vCISO service ca help your organization, or have any questions at all, don't hesitate to reach out to us at 866-999-7506 or shoot us an email at sales@securesense.ca
---
Secure Sense is the security provider that cares. We are a team of experts with a passion for IT and protecting your organization is what motivates us daily. If you have questions or want to learn more about how we can improve your organization's security, our services or just want to chat security please give us a shout.