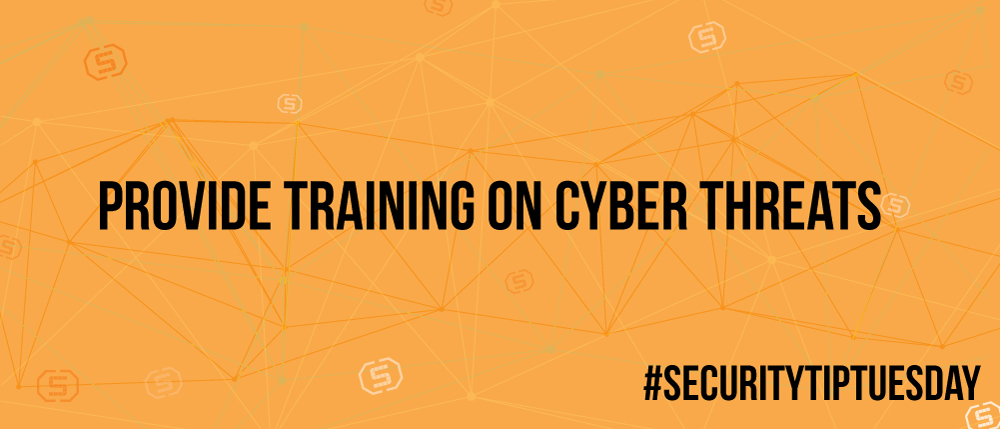 #SecurityTipTuesday: Provide Training on Cyber Threats
Let's think back for a second on all the safety lessons we were taught as kids; for example, when you cross a street, you look both ways. It's so obvious right…
Wrong. Cybersecurity or Cyber Threat awareness training is no different than the analogy above. While there are no seat belts, air bags, anti-lock brakes, etc. (security solutions) that can stop every cyber threat, and to step off the curb without looking (i.e. clicking on a link, opening a file, inserting a foreign USB key, etc.) can cause a world of grief for an organization. That being said, this week's Security Tip is the power of providing security training. 
2. Provide Training on Cyber Threats
While the majority of us are considered pros, there is still a chance an attacker can get through. And if we are not educated properly, the chance of being breached is astronomically high. Maintain your business and remain cyber safe by providing regular security awareness training. All staff should complete training on the latest online threats such as email scams, phishing, viruses, ransomware, and malware. If your employees understand what these threats are, they can avoid them.
There are companies out there like Security Mentor, that make cyber security training both enjoyable and valuable to you and your organization. We trust in the effectiveness of security awareness training and have seen how successful it can be for a wide variety of companies. If you're interested in learning more, please give us a shout, we are more than happy to provide you with any and all the information you desire!
And just like that today's #SecurityTipTuesday has come to an end. If you have any questions about security awareness training or cyber security in general, please don't hesitate to reach out! If you missed last week's Security Tip, check it out right here!
Connect with Secure Sense to protect data, your network, and systems 24/7, 365 days a year. If you have questions or want to learn more, please contact Secure Sense by calling 866-999-7506.
You can find Secure Sense on Facebook,  LinkedIn, and Twitter. Follow us for current company and industry news.
---
Additional Security Awareness Training Resources: