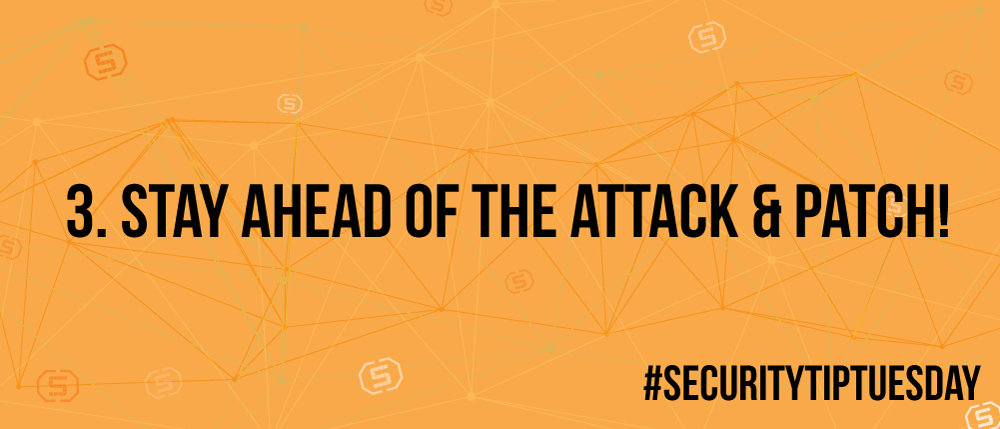 #SecurityTipTuesday: Stay Ahead of the Attack and Patch!
There are countless ways that attackers can compromise your network. Malware infected email attachments and compromised websites that deliver harmful scripts, typically tend to take advantage of unpatched vulnerabilities in OS systems, web browsers, and other applications to do irreparable damage.
This week's Security Tip Tuesday is the importance of the patch!
3. Stay ahead of the attack and patch!
Patch management simply the easiest method to defend against various threats. Attackers are still guessing passwords and discovering unsecured ways into networks are still out there, but it is hands down much easier for one to probe for an unpatched webserver, and that same exact activity is much more difficult to detect. Once a hacker unearths a flaw, they can easily exploit it with any number of malicious attacks. There are even frameworks where people can create "hack in a box" type plug-ins that any Joe Shmoe can use, with no programming experience required.
Having a patch management solution can enable you to maintain full control of your systems' patching activities. You can deploy security patches to test machines, and then push them out to all the rest of your machines, and also run reports to ensure that you have 100% compliance across all servers and workstations. You can use your patch management system to provide reports up to management and to auditors as well, so you can make sure management knows what is going on and that auditors' requests are easy to meet. Are you picking up what we're laying out yet?
And just like that today's #SecurityTipTuesday has come to an end. If you have any questions about patching and patch management or cyber security in general, please don't hesitate to reach out! If you missed last week's Security Tip, check it out right here!
Connect with Secure Sense to protect data, your network, and systems 24/7, 365 days a year. If you have questions or want to learn more, please contact Secure Sense by calling 866-999-7506.
You can find Secure Sense on Facebook,  LinkedIn, and Twitter. Follow us for current company and industry news.
---