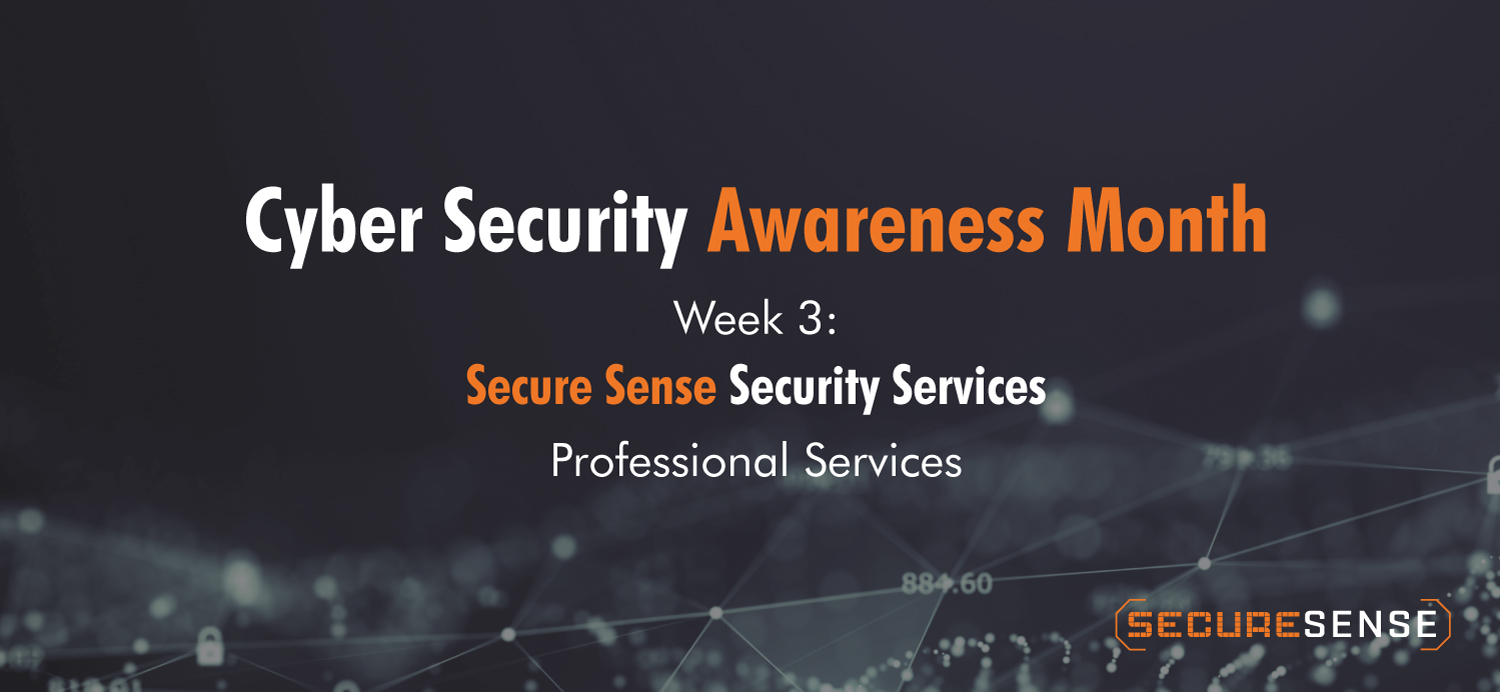 The Importance of Professional Services in Cyber Security
Continuing on the broader theme of Security Awareness and Security Services, we turn our attention to the important role that Professional Services play in the security industry.
A wise person once said that knowing what one does not know is the first step to finding answers. Of course, there are many reasons to seek out a Professional Service Provider, including concerns of operational efficiency, staffing, compliance best practices and so forth, but the skills and advice of experienced and specialized experts top the list. In other words, we can all benefit from the guidance of professionals sometimes to advise us in areas where awareness is harder to come by.
Today we're taking a deep dive into the world of Professional Services and how simply the guidance and knowledge of trained security professionals can ultimately better your business.
What Are Professional Services?
In most cases, Professional Services are project based services that require an skilled engineer or architect for a one-time project or short-term change in your organization; or a senior consultant to provide a wide range of risk advisory services. Project teams will also typically address any ongoing support or maintenance after the initial project is complete.
Secure Sense's implementation and support experts are experienced in a wide variety of Professional Services engagements with specialized tactical teams within our extended technical bench focused on specific technologies and or products.
Our cybersecurity consultant team and senior architects hold a broad range of top industry certifications and credentials, along with many years of experience in the industry. Our methodologies for common engagement types have been developed and refined to reflect the most up-to-date best practices and to scale to projects of any size, including global enterprise enablement.
What's Included in Secure Sense's Professional Services Portfolio?
Secure Sense's Professional Service bench includes top level engineers and product specialists for all our best-of-breed partner products, as well as senior security and networking architects, risk advisory consultants penetration testers and other specialists.
A few of the engagements we commonly offer include:
Cybersecurity Architecture Assessment and Design
Solution Implementation Services
Health Checks
Penetration Testing
Vulnerability Assessments
Threat and Risk Assessment
Enablement & Training
Ongoing Support
Secure Sense focus on continual training and certification among our technical ranks in order to provide the most knowledgeable technical support.
Why Your Organization Would Benefit from Professional Services
Like we said before, it comes down to knowing what one does not know is the first step to finding answers. The reality is that deploying, managing and maintenance of any new and unfamiliar technologies is hard (and expensive!) When organizations recognize these hurdles and understand the value of a professional services team, you're one step closer to safer, smarter security practices.
Organizations that implement a professional service solution can benefit in the following ways:
Access to professional and skilled expertise
Access to top of the line security practices
Fast delivery of service
Reduce time and cost
Interested in how our Professional Service Team can help your organization?
We'd love to chat! Get in touch here with a Secure Sense sales team member here to discuss your professional service options.
In honour of Cyber Security Awareness Month, we will be sharing insight on the latest cybersecurity news, tips from Secure Sense experts and general security knowledge geared towards keeping you out of the headlines and focused on what matters most, your business. Don't miss a beat by following along on our Twitter, Facebook and LinkedIn Pages.
Check back on this month's blogs for more on cyber security awareness:
Security Technologies: Next-Gen Endpoint
How To Protect Against Coronavirus Phishing Scams
The Real Value of a Managed Service
---
Secure Sense is the security provider that cares. We are a team of experts with a passion for IT and protecting your organization is what motivates us daily. If you have questions or want to learn more about how we can improve your organization's security, our services or just want to chat security please give us a shout.