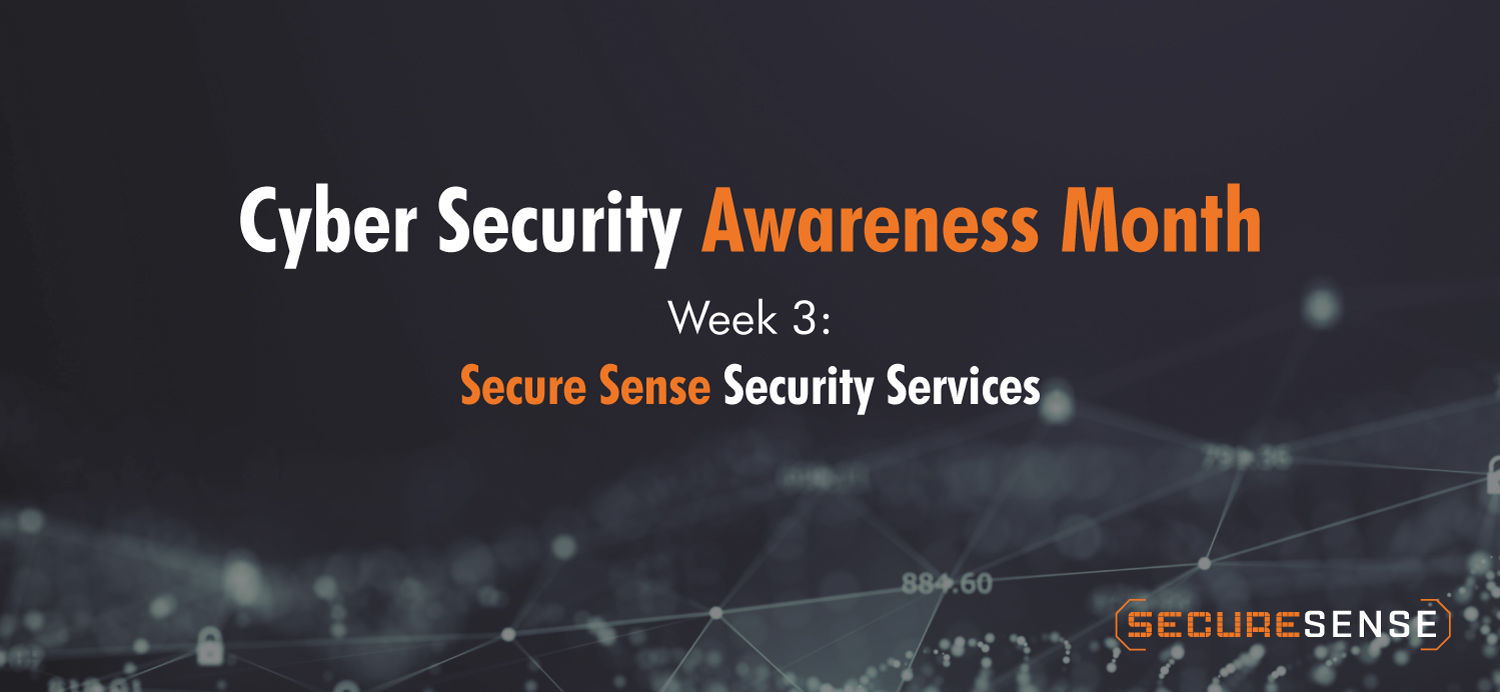 The Real Value of a Managed Service
We've entered week three of Cyber Security Awareness Month and we're excited to turn our focus to the importance of a managed security service and how working with a service provider can keep your organization safe and out of the headlines!
Security awareness is about relationships of guidance and partnerships between those that can help and those that have the opportunity to benefit from advice. While services have many benefits in terms of operational efficiency, the major commodity is expertise to translate knowledge of an environment into awareness of the best plan to secure it and its users. That's where Secure Sense comes in.
Managing any organization's cyber security is a full-time job, and with new threats and attack types surfacing daily, it can often be a stressful and overwhelming to any professional. Bad actors work around the clock to find exploits in any network and damage brands. This makes it extremely difficult to maintain a strong security posture. It's no surprise, the level of difficulty is exponentially greater when cybersecurity is not treated as priority when it comes to the budget. Wouldn't it be great if there was a cost-effective solution which allows you to focus on your core business while keeping your network safe 24×7?
A Secure Sense Managed Service can improve your security posture by providing the highest-level of security as well as:
alleviate resource drain by acting as an extension of your security team
improve overall operational efficiency
reduce risk across all platforms
Our philosophy for all managed security services is to take both a comprehensive and flexible approach, to provide you with best-practice solutions that never lose sight of your unique business requirements—after all, it's YOUR security.
What Exactly is a Managed Service?
Managed Services are a full or partial outsource of your security requirements. You will receive a customized solution that considers the nuances of your business. Our team actively works to learn about your industry, IT environment, operations, and security expectations to provide a custom solution that benefits your organization.
Having a managed service provider is your key to a safe, protected future, leaving you to focus on the core processes of your organization. With many different services offered, there is likely one that suits your organization and will increase the return on your security investment.
But How Secure Is Secure Sense?
Secure Sense operates one of the largest manned SOCs in Canada with a three-tier support system on a 365, 24×7 basis. From the jump, we place a strong emphasis on training our team, both technical and operational, to ensure we are implementing best practices and up-to-date threat intelligence.
We are SOC2 Type 2 certified. This attestation provides proven evidence that Secure Sense has a strong commitment to deliver high quality services to its clients by demonstrating they have the necessary internal controls and processes in place.
What Sets Secure Sense Apart
A founding value of Secure Sense has always been to place customers first in all areas of business. From our management team to our technical team, we strive to not only be your service provider but also a valued member of your team. Our dedicated CSM team and SOC advocates work with our customers every step of the way to ensure efficient delivery of your services and accommodate each customer's varied requirements.
Interested in Chatting with a Security Professional?
There's no better time than the present to enlist help for your security needs. Available across Canada, our team of specialists are eager and ready to learn how to become that trusted extension of your security team.
Don't hesitate to reach out to us at 866-999-7506 or shoot us an email at contactus@securesense.ca. 
---
In honour of Cyber Security Awareness Month, we will be sharing insight on the latest cybersecurity news, tips from Secure Sense experts and general security knowledge geared towards keeping you out of the headlines and focused on what matters most, your business. Don't miss a beat by following along on our Twitter, Facebook and LinkedIn Pages.
Check back on this month's blogs for more on cyber security awareness:
Security Technologies: Next-Gen Endpoint
How To Protect Against Coronavirus Phishing Scams
---
Secure Sense is the security provider that cares. We are a team of experts with a passion for IT and protecting your organization is what motivates us daily. If you have questions or want to learn more about how we can improve your organization's security, our services or just want to chat security please give us a shout.