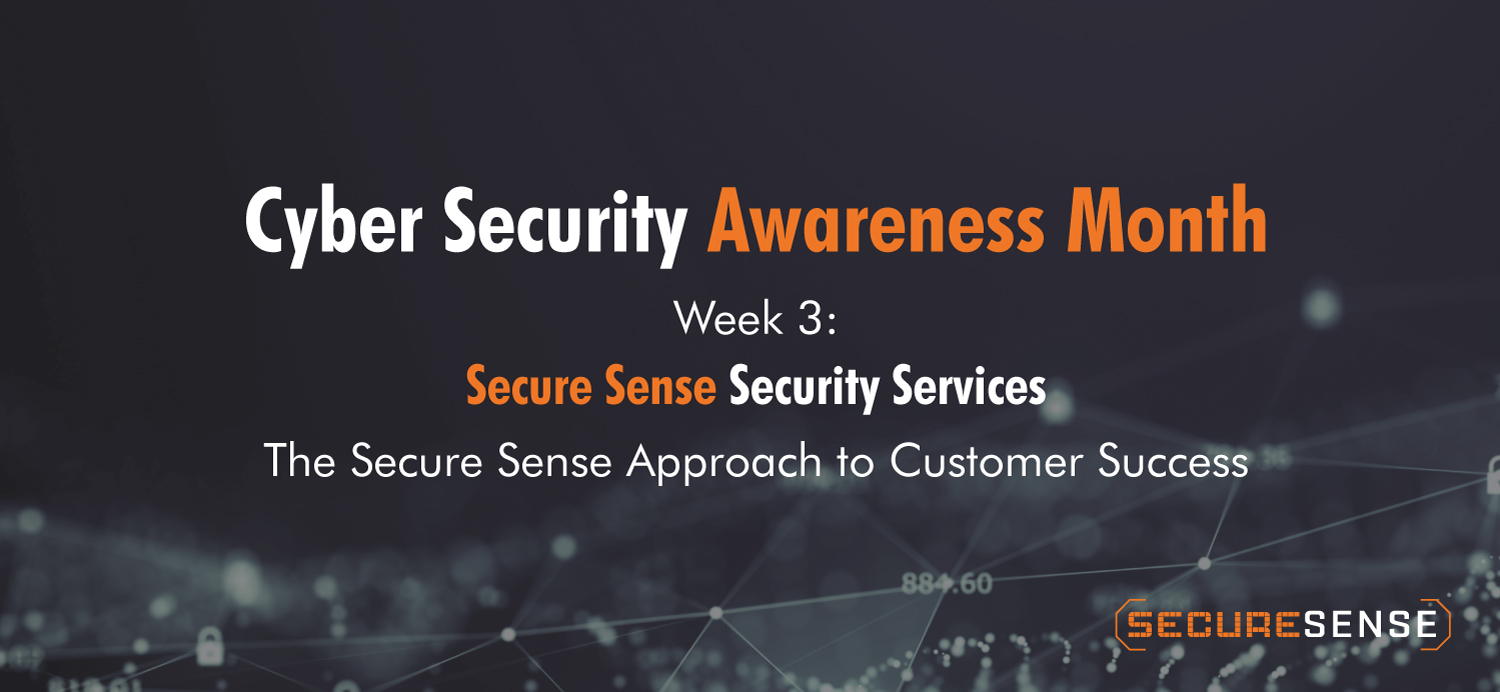 The Secure Sense Approach to Customer Success
A founding principle at Secure Sense is our dedication to customer success and care – an approach that spans across all areas of business.
Each practice is fuelled by creating the best customer service outcome, so the natural next step was to integrate a Customer Success Management Team (or CSM for short!) into our Managed Services offerings. Our CSM team is now an integral part of all our Managed Service offerings, delivering customer success!
What exactly is a Customer Success Manager?
When you work with Secure Sense as a managed service customer, you will be appointed a dedicated Project Manager to ensure your service is onboarded correctly and a Customer Success Manager who will serve as the liaison between you and our MSSP team, and Secure Sense management. They ensure that you get the most out of your service.
How is a CSM team beneficial to your security?
The key responsibilities of our CSM team go beyond ensuring your service runs smoothly and identifying opportunities to improve the service, but rather extend to become your go-to contact throughout the term of your service to ensure ultimate success in your security, return-on-investment and troubleshoot any conflict that may arise. An open dialogue approach allows your CSM to continuously make improvements to ensure your requirements are met while developing and maintaining all documentation to keep track of your services and help the Sales team to keep track on your product expiration dates.
Why will a Secure Sense Managed Service help my business?
Secure Sense is committed to providing your business with the best security and the highest levels of customer success and service. A Secure Sense managed service will allow your business to have access to a team of experts while saving the cost of hiring your own cybersecurity team. Not only will you receive a white-glove service that Secure Sense customers have come to expect working with an MSP gives your business maximum operational efficiency allowing you to get the most out of your investment. You will also have peace of mind knowing you have dedicated resources for your security – from your account manager to our project manager, CSM team, 24×7 SOC plus a SOC advocate who will altogether provide you with a high-quality service. Your service is our top priority and your environment will always be protected.
A Real World Scenario
During a weekly scheduled Service Status meeting, a SIEM customer expresses the following challenge to their CSM: The majority of their workforce has been moved to a remote work due to COVID-19. There is now significant pressure from management to increase the visibility of the value and effectiveness of the current endpoint security controls with messaging tailored to C-level/Executive stakeholders.
CSM: Behind the Scenes
The CSM in turn briefs the SOC and SOC Advocate in order to collect the required information and formulate an initial approach specific to the customer's controls. The proposed work is discussed in detail with members of the broader technical team. The plan is to leverage their Managed SIEM to correlate data across relevant security controls via a series of complex and precisely tuned AI Engine rules. Our reporting specialists are also engaged to prepare templates to express the new custom metrics in a manner that will be immediately understood and impactful. The new rule logic is implemented and tested before being enabled in production and any adjustments fine-tuned. Production data is ultimately exported as data sets needed for the new reporting deliverables. The CSM and SOC Advocate work with the resources creating the final product to ensure it meets the needs that have been expressed by the customer and samples are presented to the customer team to gain approval.
What the Customer Sees:
The customer had a need and expressed it to the singular point of contact to whom they know they can take any request. Within a matter of hours, the customer receives an update and expectations are set for the time and effort to produce a sample deliverable. Regular updates are provided by the CSM in a non-obtrusive manner (SAM Portal Ticket, Email, etc. according to established preferences) so the customer can track progress at their convenience without additional demands of their time. Within the agreed timeframe, the customer receives samples from the CSM who asks for their feedback to fine-tune the new reporting deliverables and the final product is rolled into production and the customer reports to their stakeholders, a new fancy report in hand.
Key Benefits
A single discussion with a single contact whose job is to know their services, business and environment
Dedicated management of new initiatives resulting in efficient turnaround for requests
Proactive communication at expected intervals in an expected manner
Peace of mind that the matter is being handled specifically by resources who make it their business to be informed about customer specifics
Interested in how a Secure Sense CSM can help your organization?
We'd love to chat! Get in touch with a Secure Sense sales team member here to discuss your managed service options.
On the blog yesterday we discussed the real value of a managed service. Catch up here.
---
In honour of Cyber Security Awareness Month, we will be sharing insight on the latest cybersecurity news, tips from Secure Sense experts and general security knowledge geared towards keeping you out of the headlines and focused on what matters most, your business. Don't miss a beat by following along on our Twitter, Facebook and LinkedIn Pages.
Check back on this month's blogs for more on cybersecurity awareness:
Security Technologies: Next-Gen Endpoint
How To Protect Against Coronavirus Phishing Scams
The Real Value of a Managed Service
---
Secure Sense is the security provider that cares. We are a team of experts with a passion for IT and protecting your organization is what motivates us daily. If you have questions or want to learn more about how we can improve your organization's security, our services or just want to chat security please give us a shout.
---