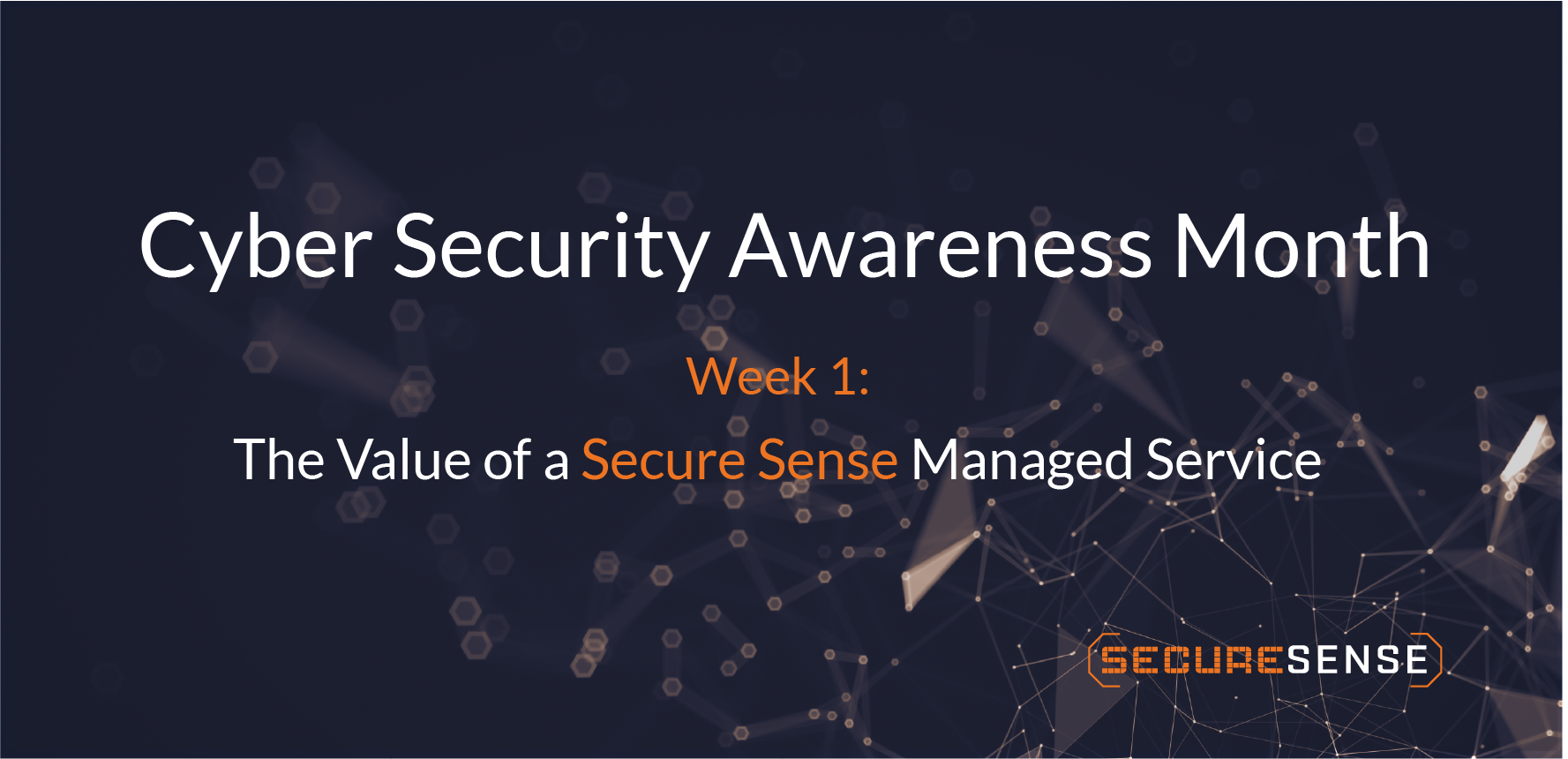 The Value of a Secure Sense Managed Service
It's October and you know what that means – Welcome back to Cyber Security Awareness Month with Secure Sense!
Last year, we talked a lot about the new "cyber norm" as 2020 was the year for changes and transitions into a new way of handling cyber security. This year, as many organizations have settled into the new norm, or now just "the norm," we're going to focus on the importance of  a managed service (the technical side and the customer side) and how Secure Sense managed services can benefit your organization, especially in today's landscape. Let's dive into week 1 and kick-off with The Value of a Secure Sense Managed Service.
What Are Managed Services?
Managed Services are a full or partial outsource of your security requirements. A managed service is designed to handle your daily security operations so your organization can focus on their core competencies. Some additional benefits of having a managed service include:
Expertise of the provider
Operational efficiency
Stable IT costs
Round-the-clock network monitoring
Quicker response time
Having a managed service provider is your key to a safe, protected future, leaving you to focus on the core processes of your organization. With many different services offered, there is likely one that suits your organization and will increase the return on your security investment.
What Sets Secure Sense Apart?
A founding value of Secure Sense has always been to place customers first in all areas of business. From our management team to our technical team, we strive to not only be your service provider but also a valued member of your team. Our dedicated CSM team and SOC advocates work with our customers every step of the way to ensure efficient delivery of your services and accommodate each customer's varied requirements.
Secure Sense Managed Services
Secure Sense places a strong emphasis on training our team, best practices, and up-to-date threat intelligence. Our team actively works to learn about your industry, IT environment, operations, and security expectations to provide an inclusive and flexible solution that best fits the uniqueness of your organization's needs. Additionally, Secure Sense managed services:
Alleviate resource drain by acting as an extension of your security team
Improve overall operational efficiency
Reduce risk across all platforms
Provide 24/7 security management
Provide only the best-of-breed security products
Security Operations Centre
Secure Sense operates one of the largest manned SOCs in Canada with a three-tier support system on a 365, 24×7 basis. From the jump, we place a strong emphasis on training our team, both security and operational, to ensure we are implementing best practices and up-to-date threat intelligence.
We are SOC2 Type 2 certified. This attestation provides proven evidence that Secure Sense has a strong commitment to deliver high quality services to its clients by demonstrating they have the necessary internal controls and processes in place to safeguard your data.
Our skilled team of analysts and engineers are dedicated to the protection of your network and are trained to monitor, detect and respond to security incidents that a business may face.
Customer Success Team
Secure Sense is committed to providing your business with the best security and the highest levels of customer success and service. When you work with Secure Sense as a managed service customer, you will be appointed a dedicated Account Executive, Project Manager, Customer Success Manager, a Technical Primary, a SOC advocate.
Account Executive: continuously develops the relationships between our two organizations
Project Manager (PMP): formally manages implementation and onboarding activities according to a proven methodology, anticipating and managing project risks and coordinating all actions and ensuring project success criteria
Customer Success Manager (CSM): proactively engages the customer to assess their needs, and opportunities to continually improve our services specific to that customer, their environment and their business and security requirements
SOC Advocates: tasked with becoming the SOC Team's expert eyes and ears when it comes to everything about your environment and your Service as pertains to service deliverables. SOC advocates attend your briefings to represent the SOC, and brief the rest of the SOC Team on what is happening at any given time with your services and special requirements
Technical Primary: your organization will be appointed a Technical primary from our team of engineers and product specialists for each managed tool/solution. Technical Primes are senior engineers who are responsible for implementation and architecture concerns, along with advanced support and troubleshooting and overseeing all configuration tasks
How will a Secure Sense Managed Service help my business?
A Secure Sense managed service allows your business to have access to a team of experts while saving the cost of hiring your own cybersecurity team. Not only will you receive white-glove service that Secure Sense customers have come to expect, working with an MSP gives your business maximum operational efficiency allowing you to get the most out of your investment. You will also have peace of mind knowing you have dedicated resources for your security – from your account manager to our project manager, CSM team, 24×7 SOC plus a SOC advocate who will altogether provide you with a high-quality service. Your service is our top priority and your environment will always be protected.
Interested in Chatting with a Security Professional?
There's no better time than the present to enlist help for your security needs. Available across Canada, our team of specialists are eager and ready to learn how to become that trusted extension of your security team.
Don't hesitate to reach out to us at 866-999-7506 or shoot us an email at contactus@securesense.ca. 
---
Secure Sense is the security provider that cares. We are a team of experts with a passion for IT and protecting your organization is what motivates us daily. If you have questions or want to learn more about how we can improve your organization's security, our services or just want to chat security please give us a shout.