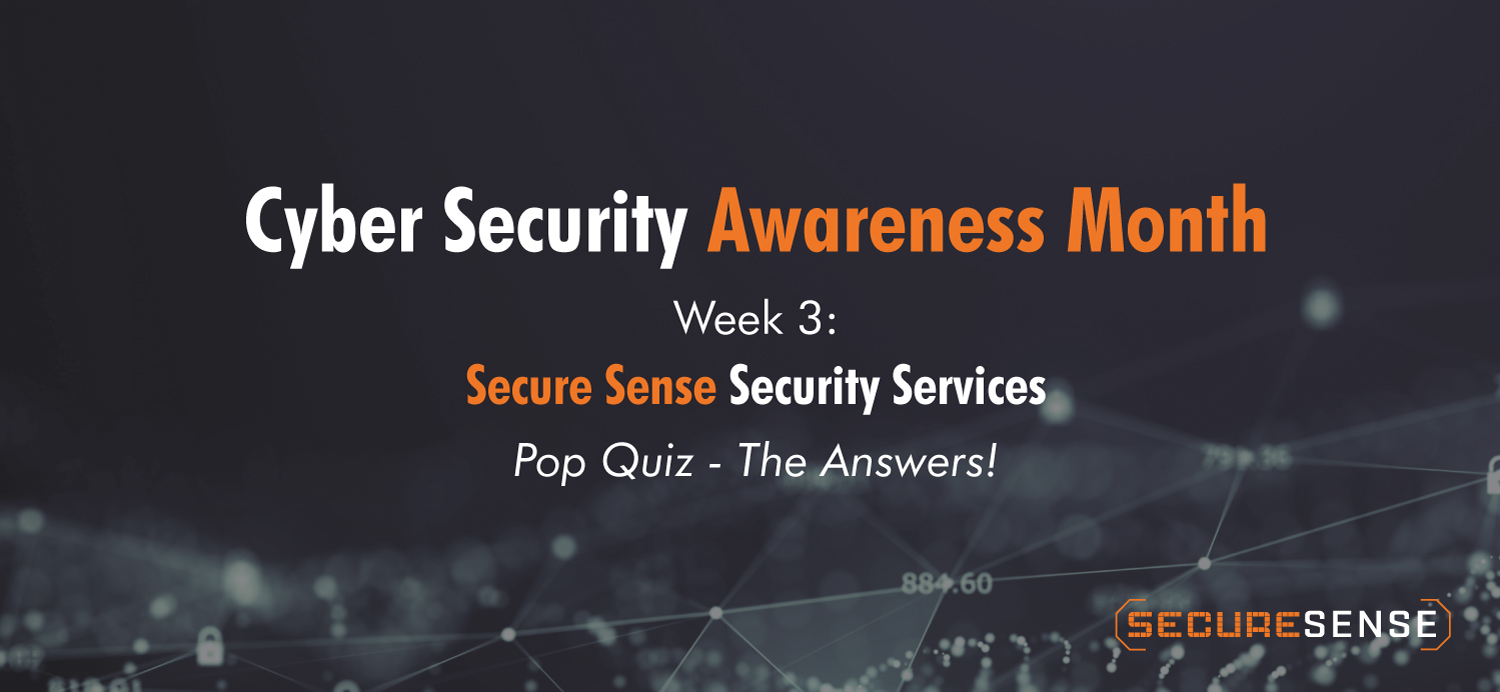 Week 3: Pop Quiz Answers
Happy Monday and welcome to the fourth and final week of Cyber Security Awareness Month! As always, thank you to those who participated in our LinkedIn Pop Quiz on Friday. Continue reading for the pop quiz answers below!
We have entered all participants (with correct answers!) in the draw and your name has been entered each time you answered a question correctly.
Below are the pop quiz answers to each question:
Which of the following is not a benefit of Managed Services?
Answer: C, Slower Response Times
Secure Sense Managed Services allow you to outsource your security requirements and to receive custom solutions based on comprehensive best practices.
Answer: True
Which of the following is not a key benefit of getting a dedicated CSM with your security services?
Answer: C, Real-Time Monitoring
Professional Services are project-based services that require a skilled engineer, security architect or risk consultant for projects or short-term requirements of your organization.
Answer: True
Which of the following is not an example of a potential Professional Services engagement?
Answer: A, Managed Detection and Response
---
And the winner is? Joshua Cruz! Please keep an eye on your direct messages on LinkedIn as we will reach out to you regarding your prize!
Check back to the blog this week for week 4 of Cyber Security Awareness Month! For our final week of Cyber Security Awareness, we are covering all things Human Disadvantage and Security.
Missed a few questions? Read up on last week's blogs on Secure Sense Security Services to brush up on your security knowledge!
In honour of Cyber Security Awareness Month, we will be sharing insight on the latest cybersecurity news, tips from Secure Sense experts and general security knowledge geared towards keeping you out of the headlines and focused on what matters most, your business. Don't miss a beat by following along on our Twitter, Facebook and LinkedIn Pages.
---
Secure Sense is the security provider that cares. We are a team of experts with a passion for IT and protecting your organization is what motivates us daily. If you have questions or want to learn more about how we can improve your organization's security, our services or just want to chat security please give us a shout.